Joshua Harris taught some bad stuff. But it's also legalistic to condemn him for the sins of other teachers.
That Joshua Harris article took off. I thought it said all I wanted to say.
Still, in light of another plot twist in the case of The People vs. Joshua Harris, it's worth revisiting this point from that piece. Speaking in general of young Christians who believe they're suffered from the Church, I suggested that they tend to:
empathize with and effectively to use professing victim classes as an "avatar," or surrogate victim, to express their own unresolved conflict with evangelical institutions, families, or churches. Similarly, they must cast "the evangelical church" as a surrogate oppressor, playing the role of the churches, institutions, or even family members who have caused the young Christian perceived harm in the past.
Joshua Harris, with his expressed "regret" to "the LGBTQ+ community," seemed to be another example of this surrogate victim-casting.
At the same time, many people are doing a similar thing to Harris. They're casting him as the surrogate "oppressor," and blaming him for the sins of people whose bad teachings or spiritual abuse they have suffered.
Columnist David French: Joshua Harris = that bad youth pastor I knew in that church that one time
In point 8 of Friday's article, I issued some mild challenges to those who accused Harris's works of solely assassinating their love lives.1
But just today, none other than National Review's (and Time's) David French stomped these critics' sour grapes into a cheap whine.
In Whither Evangelical Purity Culture? Thoughts on the Legacy of a Lost Pastor, French summarizes I Kissed Dating Goodbye. Then he takes a drastic swerve into some real personal pain:
[The book] was part of the foundation of Evangelical "purity culture," and it revolutionized parenting and dating for countless Christian parents and families.

I remember it well. I was a youth pastor for a few memorable months at the height of the courtship craze. The year was 1998, I was a youth volunteer at a small church in Georgetown, Ky., when our youth pastor left. . . . The youth ministry had gone all-in on purity culture. The previous youth pastor had even declared "no date '98," placing a moratorium on every kid in the youth group: not even a single date for the entire year. . . .
Did you catch the swerve? French only briefly mentions Harris's book and its setting. Then, French immediately veers to a describe a bad personal situation in a church where he ministered. Yes, he accurately describes the bad results that many Christians have seen, when bad teachers make "purity" into an idol, ignore or assume the gospel, and keep blithely ignorant while the kids flail about in failure.
However, French does not even mention if this bad youth pastor he knew had even read I Kissed Dating Goodbye, or whether the pastor's bizarre beliefs were influenced by the book. There's no nuance, no attempt to show the consequence.
French simply presumes: Joshua Harris = "the courtship craze" = "purity culture."
If we really believe in grace, let's show some to Joshua Harris
Other Joshua Harris critics assume and do not prove this equivocation. They do not actually engage with what Harris wrote in his first book. (Which had good parts and poor teachings side-by-side.)
They also do not separate Harris's actual ideas, from the notions of some dysfunctional parent or youth pastor who banned dating.
Perhaps strangest of all, French (and other, less-formal Harris-hatewatchers) act as though Harris simply vanished off the scene, between 1997 (IKDG's publication year) and the year 2019.
Here, French seems unaware of Harris's followup book, the much more rational Boy Meets Girl: Say Hello to Courtship (2000).
He doesn't heed the fact that Harris spent years as a trainee pastor, and then pastor, for many years (in an interesting denominational arrangement). And to top off the strangeness, did French utterly miss the fact that Harris, pre–apostasy declaration, was already out and about recanting his own message? No, not just last year, but as far back in 2005 when Harris preached a sermon called "Courtship, Schmourtship" and took other steps to resist the legalism?
See here. I won't defend Harris's previous bad teachings. In fact, I might write about book messages that were directly unbiblical and harmful. And I certainly won't defend the motive or plainly absurd "regret" tone of Harris's apostasy statement.
However, even if Harris never took these steps, does it make any sense to hold him liable for that one bad youth pastor?
Or that manipulative, spiritual abusive parent?
Or that jerk of a patriarchalist father, who refused to give that good homeschooled boy a courtin' chance with his daughter?
If we claim to be such fans of grace, why would we speak with such legalistic condemnation again one man? As if to make that one man bear the sins of an entire "purity culture"?
Let's not blame the book author for the sins of his fans. And, literally, for God's sake, don't lump everything bad about a "purity culture" into one presumed ball of gross, and then throw that on top of the head of one poor wandering soul. You wouldn't want to be associated with the sins of your people. In fact, this kind of association-with-evil is exactly what happens when bad youth pastors declare that all dating is bad.
I've also heard accounts of dysfunctional families, churches, youth groups, etc. that turned "purity" into idols apart from the grace of Jesus Christ. But by this same grace we ought not punish authors for the sins of their fans! Joshua Harris ≠ that legalistic youth pastor. 3/

— E. Stephen Burnett (@EStephenBurnett) July 29, 2019
Addendum: 'We just want That One Person to be held accountable'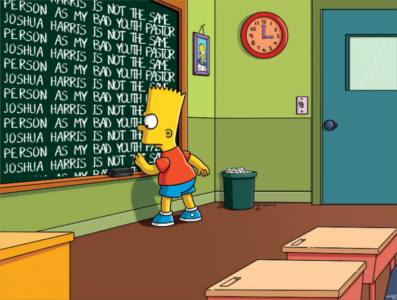 My friend Frank Sun made this highly astute comment.2
I feel bad for Harris in many ways. In the grand scheme of things, his own role in the whole "purity culture" was pretty small. At first, all he did was write a book with some bad teachings in it. Sure, it had a bit of a provocative title, but still, at one point, I Kissed Dating Goodbye was only a single book, among many on shelves, trying to offer love advice to Christians, as prone to ultimately being ignored as any other.

The "culture" only came about because of countless other people who latched onto that book, using it and twisting its message in order to gradually form what could be called a culture. From there Harris was basically sucked into the culture as its figurehead, when he was, as I see it, wholly unprepared and unwilling to be such. In fact, it felt like to me that, for all that the culture practically idolized him, his own voice in the culture felt very small; it almost felt like people knew him more just for "starting" the movement than for the specific teachings in his books.

(I wonder how many even knew that he had re-written IKDG with more moderate teachings.)

In the end, there are so many forces at work behind purity culture, just as there are with any other cultural movements.

Unfortunately, people want to be able to blame a specific name and face for their problems. They don't like having to spread that blame over a nebulous "culture" of people that they can't hold accountable.

—Frank Sun

Unfortunately, people want to be able to blame a specific name and face for their problems. They don't like having to spread that blame over a nebulous "culture" of people that they can't hold accountable. So the unwilling figurehead gets dragged out into the streets and beaten as he's paraded down for all to see, while the many others who contributed in small ways watch quietly in their homes.

Unfortunately, this is the way of the world: pin the blame on a specific name and face and hope that makes all your problems go away. Whether it's an author, actor, or president, we just want That One Person to be held accountable for our problems. And when That One Person does leave but the problems continue, we just find the next person to blame.
My friend Adam Graham also remarks:
When I was 15 and a half, someone gave my parents an audio cassette series on courtship the year before I Kissed Dating Goodbye was published. Harris didn't start the fire.
I've edited the comment only a little. ↩