I'm hosting the Lorehaven booth, exploring creativity, and discussing the challenges of "PG-13" writing at RealmMakers, July 18–20 in St. Louis.
Today I'm in St. Louis for the seventh annual Realm Makers conference.
I'm representing Lorehaven magazine at the Realm Makers Bookstore. We're open Thursday through Saturday at the Sheraton Westport Chalet Hotel.
You'll find all our magazines on display, including the new summer 2019 issue. We'll share print copies and more information about the Lorehaven mission. Oh—and we'll be giving away at least one, possibly two copies of the newly released Light from Distant Stars from novelist Shawn Smucker.
In the bookstore, you'll also find the best in fantastical fiction from many Christian authors.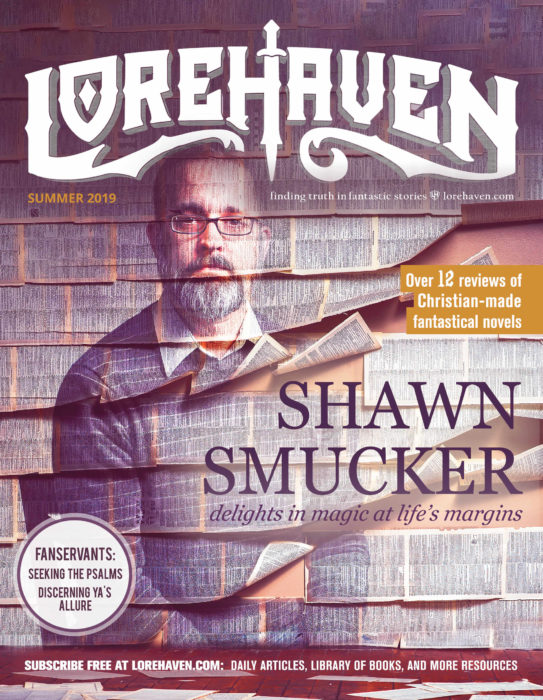 This includes, of course, many titles positively reviewed by Lorehaven magazine.
On Thursday and Friday, I'll attend several classes about writing and marketing fantastical fiction.
Then on Saturday, I'll join several panelists for a discussion about how (or whether!) Christians can create stories about "PG-13" content. That panel starts at 3 p.m., and I'm looking forward to exploring what has become a favorite topic for me.
P.S.: Update on that book about Gospel-hearted parenting and popular culture
Finally, just yesterday, my coauthors and I locked down the title for our pending nonfiction book from New Growth Press.
Want to slip me a twopence? If so, I'll write this title on a slip of paper and secretly pass it your way.
Next up: cover design. From here the fun begins.